Rabbi Elisha Wolfin
Kehillat V'Ahavta
1 Hashmura Street
Zichron Ya'akov ISRAEL
Phone: 011-972-4-629-1180
E-mail: misrad.veahavta@gmail.com
Website: www.masorti.org.il/veahavta
About
Our Kehila was started in 2003. From a core of eight enthusiastic and energetic families, we have grown to a congregation of 50 dues-paying families and at least 100 additional non-member families that attend our programs throughout the year.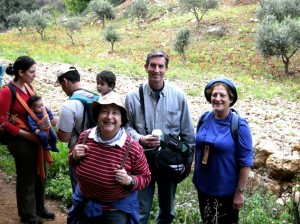 Some of our participants are native born Israelis, others are new immigrants, and some made Aliyah many years ago. We reach out to non-observant Israeli families, opening the doors to Jewish spirituality that they did not know existed. This requires tolerance, love, acceptance, and creativity. Many contact us at times of life cycle events. In 2004 alone we had the privilege of teaching, hosting, and celebrating 24 Bar/t Mitzvahs. This success resulted in the gradual expansion of the frequency and types of activities that we held.
Our future plans are many and creative. Our children are our future, so we have decided to develop our "Next Generation" program, to focus on children and youth programs. We are now busily working on plans to open a "Noam" youth chapter for our Bar/t Mitzva graduates.

Activities and News
Friday evening spirited services, preceded by communal singing of Israeli songs and monthly family Kabbalat Shabbat program geared towards the younger kids in the Kehilla. A monthly Shabbat Shacharit service, followed by a potluck family lunch, including a bi-weekly Seuda Shlishit followed by a spiritual and magical Havdalah service.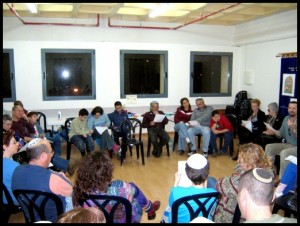 Study of the Weekly Parashat HaShavua (Torah portion of the week), as well as monthly study sessions on a variety of topics. Bet Midrash V'Ahavta Every Thursday, the Institute offers a stimulating class — "This Week's Torah Portion", under the leadership of Rabbi Elisha
Celebration of all the Jewish holidays such as Purim Megilah reading, which brings in 150 people; a unique Tu B'Shevat seder, focusing on environmental issues in our daily lives; and a Pesach hike in the Zichron Yaakov environs.
Bar/Bat Mitzvah program (20 sessions of Jewish Values and Concepts -101) Other life cycle events : Pidyon ha-ben, weddings, funerals, and memorial services.
Tikun Olam (providing food for Shabbat to families in need in Zichron Yaakov)
Photo Albums