Rabbi: David Lazar
Chairman: Bill Gross
P.O. Box 17386
Tel-Aviv 61172
Phone: 011-972-3-643-6748
Fax: 011-972-3-641-0544
office@tiferetshalom.org
http://www.tiferetshalom.org.il
About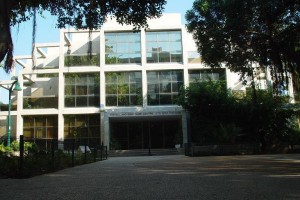 Tiferet Shalom is a community with a holistic approach, touching every realm of our lives. The community, located in the heart of north metropolitan Tel-Aviv, seeks to strengthen the connection between the Jewish world and modern Israel. Tiferet Shalom is affiliated with the Masorti movement, which believes in tradition alongside change. The congregation was founded thirty years ago but began a marked spurt of growth with the leadership of Rabbi David Lazar, a 2003 graduate of the Schechter Institute. Today we number 160 family units, mostly young families born in Israel.Each Shabbat services are held at the Chess Center on Tagore St. in Ramat Aviv.
Tiferet Shalom conducts a diverse community discourse on topics of Jewish spirituality, radiates inspiration, and infuses Jewish identity with meaning. Tiferet Shalom offers a community framework and support for our members no matter their station in life, from young families to senior citizens. The community offers a social framework, and its dozens of members maintain personal connections with one another and take pleasure in the shared sense of belonging.
Activities and News
From children to adults, people of every age find their place. The community runs study groups, lecture series, and formal and informal discussions on Jewish-related topics. All of this takes place in a liberal atmosphere, with a real openness and a holistic belief that Judaism is an integral part of the world.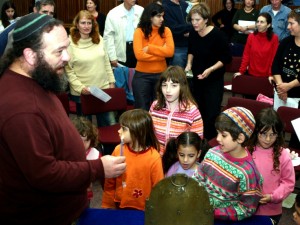 The community offers prayers on Shabbat and holidays, kabbalat Shabbat services with musical accompaniment for young families, weddings, brit milah and simchat bat ceremonies, prayer instruction, Jewish meditation workshops, pre-holiday workshops, bar/bat mitzvah groups, programming for couples before marriage, and more.
Community and Social Activism
Tiferet Shalom, in collaboration with the Tel Aviv – Jaffa municipality, continues to be involved in assisting the elderly, people living with HIV/AIDS, local tenants of low-income government housing as well as other populations in need.
Last year, during the second Lebanon war, our community adopted a tank company stationed in the north. Dozens of parents and children gathered goods and collected funds to send packages to these soldiers both during and after the active fighting. The Bar/Bat Mitzvah class maintains an ongoing relationship with this IDF unit which we hope will continue in the years to come.
At present we are involved in educational activities in several schools in the Tel Aviv area, some of which are sponsored by TALI. At all these schools we work with kindergarten children, teachers and parents. The children and their parents are welcome visitors at our study groups and our religious activities.
Our congregation conducts regular activities with Christian and Muslim communities in Israel and abroad.
Photo Album