President, Sam Turetsky
8 Borochov Street, POB 54
Ra'anana, 43100
Tel. 011-972-9-741-9049
president@raananamasorti.com
About
Ra'anana Masorti (Conservative) Congregation was founded in 1975 as a community in which people can keep Jewish traditions, participate actively in events, show tolerance, while retaining the feeling of traditional religious observance. Ra'anana has served as an example of how both the secular and religious Jewish communities in Israel can live side by side with tolerance and respect. Ra'anana Masorti is an important part of that balance and has just enjoyed our 30th year as a Synagogue, currently under the leadership of Rabbi Reuven Resnick. We would love you and your family to join us. Whatever your background or level of observance, Ra'anana Masorti has a seat waiting for you.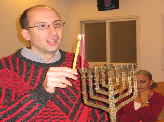 The community of Ra'anana Masorti is a successful mixture of English-speakers, South Americans, and Israelis that enjoy having the community run in both English and Hebrew. Ra'anana Masorti members come from a broad spectrum of religious observance and to accommodate this, the Synagogue is divided into 3 sections: family seating, as well as more traditional separate seating for men and women. This approach allows us to accommodate the differences between the different worlds.
We at Ra'anana Masorti celebrate full Bar and Bat Mitzvah ceremonies, and currently celebrate both "Conservadox" (in which women are not called to Torah) and Egalitarian minyans on alternate Shabbats. Our community is strictly kosher and practices in the synagogue are totally 'shomer Shabbat' in order to allow everyone and anyone to participate. Our membership is currently about 90 families and although we can accommodate those who attend throughout the year, during the High Holy Days we rent a large hall, with, at peak times, over 400 people attending.
The Synagogue is run by a voluntary committee working in close cooperation with the Rabbi as well as additional volunteers who put their hearts and souls into making things happen. We are funded solely from dues and contributions of members and friends.
Activities and News
Life-cycle and Holiday Activities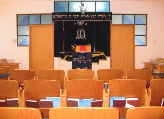 We have continuous activities throughout the year. Alongside our three regular weekly services (Shabbat Eve, Shabbat Morning and Thursday morning), we celebrate all the chaggim, memorial days and in summer, Oneg Shabbat meals after the Friday service. We have lectures, parties, communal meals, quizzes, children's services, fund-raising activities and celebrations for birthdays, anniversaries, weddings and births. Of course we are also there to support our members in times of need, in illness or in mourning.
Community Leadership and Drashot
Throughout the year, community members play an active role and take turns at running services and giving drashot. This allows everyone a chance to have their say and we hear a wonderful variety of opinions and interpretations.
We have a regular newsletter, remind our members of 'yahrzeit' dates, and try to stay in constant touch. All our members may not attend services every week, but they can rest assured that they are welcome, whenever they choose to come.
Photo Albums