About
Kehillat Netzach Israel is a Masorti (Conservative) Congregation situated in the seaside city of Ashkelon in southern Israel. Just 45 minutes drive from Tel Aviv, an hour from Jerusalem and linked by train to all major destinations in the country as far north as Haifa.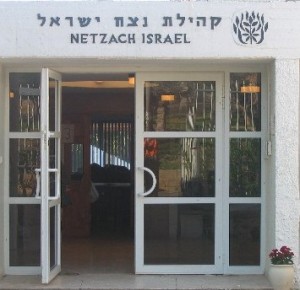 We are the only non-orthodox synagogue in Ashkelon and offer an egalitarian, pluralistic and family-orientated approach to Judaism and cater to a range of languages, including Hebrew, English, Spanish and Russian. A melting pot of modern Israeli society with members from many different backgrounds: Sephardim and Ashkenazim, veteran Israelis and new immigrants, the elderly, adults, youth and children. We receive no government funding but do receive some support from the Masorti Movement in Israel.
Founded in 1967, Kehillat Netzach Israel is one of the more established Conservative Congregations in Israel. There are five on-site TALI Kindergarten classes and a comprehensive Afternoon Day-Care program, NOAM Youth Movement activities, Family and Adult Education programs, a Conversion program, a Bar/Bat Mitzvah program and a Summer Day Camp as well as on-going ritual and Holiday activities. We provide a wide range of social and educational programs with Jewish content, reaching out into the wider community.
Rabbi Gustavo Suraszki, who emigrated from Argentina, has been the Rabbi at Kehillat Netzach Israel since 2004.
Activities and News
Annual Day Camp and Noam Youth Movement
During the summer, we hold our annual Ashkelon Day Camp for children from our preschool. Many of these children require subsidies in order to attend camp. The three week Summer Day Camp has about 100 campers. Our NOAM Youth Movement Ashkelon Branch is active during the year and meets everyTuesday afternoon. It holds a wide range of activities, including giving out honey, drinks and cakes to soldiers at the central bus station for Rosh Hashana. They are involved in many Tikun Olam Projects. Many children also attend the Ramah/NOAM sleep away camp and attend shabbatonim and trips during the year.
We have a very successful NOAM youth group with over 50 children from third to twelfth grades. Many children receive scholarships every year to attend the Ramah/NOAM sleep away camp, shabbatonim and trips.
They meet Masorti children their ages from all over the country. They see that they are not "unusual" or "strange", even if they are a minority among their peer group in Ashkelon. They have an amazing range of activities that are fun and educational, that teach Masorti Jewish values, religious and Zionist experiences, Tikun Olam, helping others and learning about themselves.
We hope that during the coming school year, as well as next summer, we will be able to enable as many of our children as possible to take part in trips and seminars and Shabbatonim sponsored by NOAM.
We hold an annual "nearly new" sale as part of our outreach program to help the needy. Many new immigrants and one-parent families come to buy bicycles, clothes, books, baby accessories and household goods generously donated by our members and friends.
Yahrzeit — An Everlasting Memory
We offer an opportunity for overseas members to join the Netzach Israel Memorial Program. A plaque will be established in the name of a loved one which will be lit up during the five times a year at which time Kaddish will be recited.
Southern Region's Women's Day
We participate in the Southern Region Study Day for Masorti Women. Sponsored by Women's League, over 150 women from all over the south of Israel participate in classes and workshops that are held in 4 languages: Hebrew, English, Spanish & Russian. Participants enjoy a warm and relaxed atmosphere, joint prayer and lively discussion.
We have an annual Mishloach Manot Program for our members and distribute tasty packages for Purim to the elderly, needy and soldiers. Last year we distributed 100 Mishloach Manot packages. We also give Pesach food and Rosh Hashana packages to families in need.
With your help, we provide Lone Soldiers and our IDF soldiers with "Goody Packages" throughout the year. We present them with a useful bag at their induction and send out packages of candy, chocolate, cookies and essential items several times a year to soldiers serving in the Israel Defense Forces, keeping in contact with them and their families throughout their army service.
Photo Albums