About
Kehillat (Congregation) Mevakshei Derech, located in the tree-lined San Simon neighborhood of Jerusalem, has been affiliated with the Israel Movement for Progressive Judaism (Reform) since 1999. The Kehillah was founded in 1962 by a group of people dedicated to establishing an ethical and cultural movement in Israel based on Jewish values, inspired by the vision of the prophets, and committed to the principles of democracy, pluralism, and tolerance.
Activities and News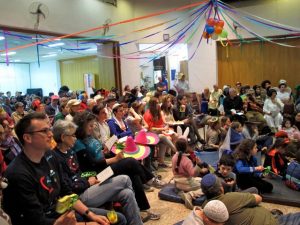 Educational Courses:
Mevakshei Derech offers an intensive Bar/Bat Mitzvah program, courses on Jewish thought and texts for adults and educational activities for new immigrants. Most of the Kehillah's educational activities are taught by Kehillah members themselves, on a volunteer basis. We are also home to a wide range of community activities: choir, theater, exercise, diet, and a local pluralistic Beit Midrash.

Tefillah(Prayer):
The Kehillah explores ways to involve members in all aspects of our services:
Shabbat Morning: Each Shabbat morning our members lead services and each week a different individual gives the D'var Torah (sermon) on the weekly portion. This is always followed by a lively discussion.
Musical Friday Night: Once a month we hold a Friday night service with instruments and young musicians.
Ma'agal Shira (Singing Circle): We gather monthly to learn new melodies and improve our abilities to sing and pray together.
The Kehillah has an extensive program of social involvement. The Kehillah has partnered with "Yesh Lecha Chaver" (You Have A Friend), a local non-profit that distributes food to the needy in our neighborhood on a weekly basis.
The Kehillah of Young Families: The Kehillah offers a special enrichment program to the families who bring their children to our pre-school. This includes "Kehillah Day" each week as well as parenting workshops and holiday. We are currently developing a post-pre-school program which will continue to provide Jewish enrichment for children in first and second grade.
The Sidney Davidson Educational and Cultural Center at Mevakshei Derech
The second floor of the Center, which opened four years ago, houses three pre-school classrooms. Completion of the first floor is scheduled for September 2018. At that time we will open four more classrooms.
Photo Albums