About
Kehilat Ra'anan has committed itself to effecting social change in the spirit of Progressive Judaism within Israeli society. Kehilat Ra'anan is an IMPJ congregation founded 18 years ago in Israel's Sharon plain.  Several years ago the congregation moved to it's new exquisite home in Ra'anana, The Samueli Center for Progressive Judaism.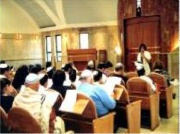 Thanks to the indefatigable leadership of Rabbi Tamar Kolberg, the congregation is making an impact on the secular community of Ra'anana way beyond the number of people on its official membership list. The ratio is impressive: for every one of the 80 member families of Kehilat Ra'anan, another five non-member families receive a service or have some sort of need met as part of the congregation's Outreach program. 5:1 is quite a hefty ratio for a congregation that is still in the "developing" stage.
Being new in the neighborhood means having to answer many questions. People who drop in to see what we are all about or families who avail themselves of our extensive Bar / Bat Mitzvah program or any of our other activities are curious to know what we stand for. They ask about our congregational life as well as our affiliation with the Israeli  Movement and with American Reform. They want to understand what it means to belong to our Kehila and what there may be for them to be interested in.
It takes a lot of courage to create the societal framework that reflects your vision of Jewish life in modern Israel. Our congregation is doing just that: step by step it is forming patterns of communal life as well as frameworks for individual spiritual growth.
We have adopted and adapted the three pillars upon which the Jewish world stands and upon which we see our Kehila being built: 1) The pillar of study and learning (Torah);   2) The pillar of spirituality (Avoda);   3) The pillar of social action and care for others (Gemilut Chassadim).
We concentrate our efforts in each of these areas – both within our community as well as in ever-increasing circles, through outreach programs. The agenda of today as well as the concern for the future point us to the need for a stronger and richer continuity with the past.  The unique and very traditionally Jewish blend of memory and of vision that links one generation to another is the path we travel as we face each new day.
Activities and News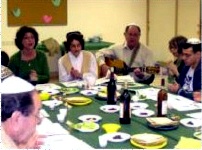 Last year, over 150 teenagers and their parents were exposed for the first time, for most, to an introduction to Judaism, in a 12-lesson course which for ideological-theological reasons is deemed an inseparable part of preparation for the ceremony. These secular, upper-middle class families, many of them initially drawn by the attractiveness of the Samueli Center for Progressive Judaism as a venue for the event, go away with, as one parent put it, "a sea of knowledge crammed into a limited period of time". And if we're talking about first-time exposure to Progressive Judaism, figure in the 50-or-so guests at each Bar/Bat Mitzvah, and the numbers are mind-boggling.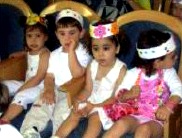 We now have three classes of preschoolers, catering to 60 toddlers and their parents, operating in the Samueli Center under the name Gan Renanim. The families are attracted by the high-quality premises and a curriculum that integrates Progressive Jewish values and customs so lacking in other educational formats. Parents register their kids with the understanding, and desire, that they get this special programming which includes: a strong emphasis on "experiential Judaism" with equal participation by boys and girls alike in kiddush, lighting candles and prayer services; close involvement of the Rabbi in the curriculum and in educating the staff in teaching Jewish subjects (from a Progressive perspective); and visits by gan kids to the synagogue and participation in holiday celebrations in the synagogue. The parents themselves are encouraged to come for after-hours programming, as part of a School-Shul program designed to impart the values of Progressive Judaism and involve them in the congregation. The gan programming is unique in Ra'anana and fulfills our goals as a Progressive congregation to positively affect Israeli society according to our beliefs.
Bnei Mitzvah Ceremony Outreach project
Another  Outreach project deals with local schools. This year, three completely secular schools in Ra'anana requested to conduct their annual Bnei Mitzvah ceremony at the Samueli Center with Rabbi Kolberg. That translates into 120 kids from each school, plus their teachers and their parents setting foot in a Progressive shul for the first time in their lives. Another school, privately run by parents seeking a quality education for their children, is cooperating with the congregation and the Rabbi on integrating Judaism into their curriculum. An additional project, conducted in cooperation with a local Modern Orthodox rabbi, introduces high school students to the concepts and practice of pluralism within Judaism.
During the past year a new group has become established, a group of a dozen or so families with very young children (aged one to ten), who meet once a month on a Friday evening for an informal service and pot-luck dinner. Some have been members of the congregation for a few years already, some have children in the ganim or are graduates of our conversion class, and some "discovered" us for the first time through this activity. Together they pray, study, socialize and create their own "home base" within our community.
We are privileged to have as neighbors two residential settings for special needs adults; Beit Peri whose residents are young adults with autism, and Beit Halomi, a hostel for the developmentally disabled. Over the years we have developed a number of cooperative programs with these neighbors, including regular monthly Kabbalat Shabbat services conducted by our youth group, and joint celebrations of Simchat Torah and Purim. Recently, members of the congregation have become involved in a weekend respite care program for severely handicapped children at a local Special Education school; leading a special Kabbalat Shabbat for them once a month.
Kabbalat Shabbat in the Park
Park Ra'anana is a lovely large public recreation area, with trees and grass, playground equipment and a mini-zoo, located at the western end of  town. This summer it also turns into an open-air worship venue, one Friday evening each month! In cooperation with the municipality, Kehilat Ra'anan invites the general public to participate in a musical Israeli Kabbalat Shabbat, led by our rabbis, and incorporating modern Israeli poetry and music as well as traditional prayers. Several hundred people of all ages participated in the first "trial run" in September 2009 and the opening event of the 2010 summer season. The mayor of Ra'anana was an enthusiastic participant, and opened the service with a short "dvar Torah" on the portion of the week.
Photo Albums