Rabbi Yosef Kleiner
22 Adam Street
Jerusalem 93782, Israel
Phone: 011-972-2-673-7183
E-mail: mavraham@zahav.net.il
www.kma.org.il/en/
About
Kehilat Moreshet Avraham (KMA) is one of the flagship congregations of the Masorti (Conservative) Movement in Israel. Located in southeastern Jerusalem near Jerusalem's magnificent Tayellet (promenade), its name, "Abraham's Heritage," remainds us that this was the area from which our ancestor Abraham, first saw "from afar" the holy Mount Moriah. KMA strives to be a truly pluralistic and inclusive community, providing religious services and education in the spirit of Masorti/Conservative Judaism. You can be our partner in this important endeavor.
Our History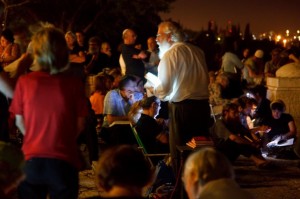 Founded by a handful of families in the mid-1970s in order to enhance the quality of religious life for Conservative/Masorti Jews, KMA has grown to be the anchor for Conservative Judaism in South Jerusalem. We have regular services on Shabbat and holidays, educational and community activities, social and cultural events, and an outstanding Masorti kindergarten. Our award-winning Bayit Cham, program, offering tutoring, a hot meal, and interaction with our own children (and adults), began with Ethiopian children and has now been expanded to include children from disadvantaged families.
Our Challenges and Mission
The past two years have been particularly challenging for KMA. We have wrestled with the issue of women's roles in our services. Rather than choosing to view ourselves as either "Egalitarian" or "Traditional," KMA has chosen to identify itself as a beacon of pluralism and inclusiveness. We believe we have created an atmosphere which conforms to the pluralistic nature of Conservative Judaism.
Along with Israelis, we have confronted terror, bloodshed, and economic hardship in the matsav (situation), which affects all aspects of our lives. With your help we will make KMA an attractive place for our children to spend their leisure time, encouraging them to "hang out" at shul. The recent donation of a ping-pong table and a home entertainment center has further enhanced the KMA Youth Lounge. Because of your rapid response to our new security needs, we now have an armed guard on duty. We need to redouble our efforts on all fronts.
Photo Albums