Rabbi Shlomo Fox
Chair: Eran Ovadia
P.O. Box 40148
Rehov Inbar 4
Mevasseret Zion 90805
Phone: 011-972-2-570-0361
Fax: 011-972-2-579-5074
E-mail: info@kamatz.org
www.kamatz.org
About
Kehilat Mevasseret Zion (or Kamaz, which is the acronym for the Mevasseret Zion Congregation) began as a small group of people who looked for a different way to express their Judaism. Gradually, over a number of years, additional families joined the group, the prayers were moved from their living rooms to the entrancefoyer of the junior high school on Rehov Yasmin, study groups were established, and the group became a congregation that continues to grow. Kamaz consists of men and women who have come together in the spirit that is rooted in Jewish traditions, heritage and values as an inseparable part of contemporary Jewish-Israeli identity. Our congregation places a particular emphasis on the commandments (mitzvot) on the individual towards his fellow man, encouraging religious thought and action in light of our changing times, our society and of science and technology.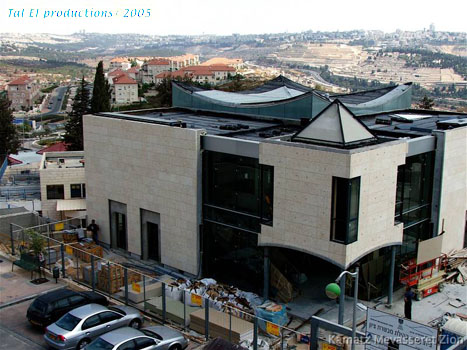 Kamaz enables its diverse congregation to express its Jewishness in an egalitarian and democratic manner by providing the secular (non-Orthodox) families in Mevasseret Zion, whose population is about 30,000, with a means of carrying out Jewish cycle-of-life rituals in a modern, liberal spirit and in a style that is meaningful to them, accompanied by studying and working for betterment in the local community. Within Kamaz are persons and groups from a wide variety of backgrounds and nevertheless with many elements in common. Kehilat Mevasseret Zion was founded in 1993 and numbers about 160 families who pay annual membership dues. In addition, there are another 250 families who participate in various activities while not being actual members.
Activities and News
Kehilat Mevasseret Zion has prayer services every Friday evening, Saturday morning, holiday evening and holiday morning. Includes prayers for Cycles of the Year, Life Cylces such as Birth of a son, Brit Mila, Bar and Bat Mitzvah, marriage, burial and memorial (Yahrzeit).
Courses in reading the Bible, conversion courses, Bar and Bat Mitzvah study, Preschool, Beit Midrash Adult education classes, weekly group meetings to discuss the topics of love, slimming (dieting) and faithfulness in the Bible, the writings of the sages and in Hebrew literature.
Our community action program has worked tirelessly since February 1994 to look after over 20 families who immigrated from Sarajevo in Bosnia. Each family has been successfully "adopted" by a family from our congregation. The adopting families help to make the absorption process less distressing for the newcomers. It involves everything from inviting for a "shabbes" dinner, to help reading Hebrew forms, to sick visits and how to find your way in the Israeli bureaucracy. Most of the newcomers, whose Jewish knowledge is limited, have responded very well to our Jewish educational leaflets produced in Serbo-Croatian. There have been a few Bosnian Bar-Mitzvahs and we look forward to more. We have advertised regularly, in the local newspaper, for household goods and furniture for the Bosnians. We have assisted them in many other ways: teaching them Hebrew and helping them cope with traumas of the war they left behind.
Photo Albums