Zvi Giladi, Chair
Rabbi Ada Zavidov
Cantor Evan Cohen
Shany Shlomo, Administrator
16 Shmuel HaNagid Street
94592 Jerusalem
Phone: 011-972-54-474-2314
Fax: 011-972-2-623-4866
E-mail: cantorevan@gmail.com
www.kharel.org.il

About Har-El – The Cornerstone of Progressive Judaism in Israel

Located in the heart of downtown Jerusalem, Kehilat Har-El is a vibrant and active community of Reform Israelis of all ages and from all walks of life. Since its establishment in 1958 as the founding congregation of the Israel Movement for Progressive Judaism, Sabras and Immigrants, Sefardim and Askenazim, and tourists from all over the world come together to celebrate Shabbat and the Holidays, to learn and study their Judaism, to express their creativity, and support both each other and their community in the egalitarian, welcoming, and open spirit of Reform Judaism.
Unique to our congregation is the dynamic team of Rabbi Ada Zavidov, and Cantor Evan Cohen. Rabbi Zavidov, a native Israeli and graduate of the Hebrew Union College, is the first woman to serve as a congregational rabbi in the history of Jerusalem. Cantor Cohen, a native of the USA, is the first Reform graduate of the prestigious Tel Aviv Cantorial Institute.
Reaching Out to the Community and Beyond
Seven days a week our congregation bustles with activity, thanks to Har-El's talented administrator, Shany Shlomo, together with Rabbi Zavidov and Cantor Cohen. As a leader in the field of Jewish Education, our congregation successfully reaches out to Israelis who look to rediscover their tradition in a pluralistic atmosphere. Every year children fill our preschool to capacity. Dozens of youth together with their parents prepare for their bar/bat mitzvah. Through our adult education classes, members and the community at large reclaim their heritage.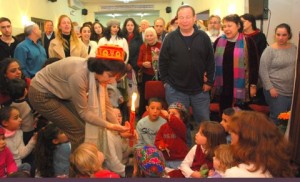 Our Shabbat and Holiday Services, integrating spirited congregational singing with the richness of our musical tradition, nourish the soul of our members, the community-at-large and the many members of congregations from abroad who visit us for prayer, study, fellowship, and hospitality throughout the year.
Many families from overseas choose to celebrate unforgettable Bar/Bat Mitzvah ceremonies at our historic synagogue, "Ezrat Yisrael" (the egalitarian section of the Kotel/Western Wall) or Massada, deepening their attachment and commitment to Israel and the Jewish people.
Building a Tolerant, Creative and Compassionate Society in Israel
Har-El's commitment to the surrounding community includes both social justice projects and assisting immigrants adjust to life in Israel. Immigrants from all over the world study at our Hebrew ulpan, and our acting workshop provides a creative outlet for self- expression together with veteran Israelis.
Our congregation provides support to those in need, be it a holiday meal, help during illness, transportation to synagogue, or a warm welcome.
Har-El is also a center for interfaith dialogue, welcoming visitors of other religions and providing prayer books in several languages.
Join the Har-El Family
Our accomplishments are due greatly to the generosity of our Overseas Friends. In contrast to Israel's Orthodox Congregations, Reform Congregations receive no meaningful funding from the Israeli government.
We therefore invite you to join us and be a partner to the ongoing success of our congregation. With your generous support, Kehilat Har-El will continue to thrive and grow, and be a meaningful part of the Jewish mosaic in Jerusalem.
Be a part of Jerusalem all year long. By becoming an Overseas Friend of Kehilat Har-El, you will always have a "Home in Jerusalem" – the heart of the Jewish People.
Of course, if you live here in Israel, join us as a member! We are always looking for new members to our congregation and look forward to welcoming you to your new extended family!
Activities and News
Overseas Bar and Bat Mitzvah Ceremonies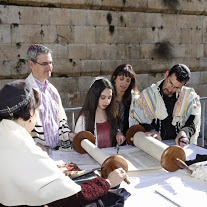 Come celebrate your child's bar or bat mitzvah with Israel's first Reform congregation at our synagogue in Jerusalem, at the "Ezrat Yisrael" (the egalitarian section of the Kotel/Western Wall), Massada, or the ancient synagogue of Ein Gedi! We see the ceremony both as a meaningful and unique event in the lives of the bar/bat mitzvah and his/her family, as well as an opportunity to strengthen the relationship and mutual commitment between the Israeli and Diaspora communities. Please do not hesitate to be in contact with us at any time throughout the process. We look forward to sharing this important occasion with you.
For further information on Bar/Bat Mitzvah Ceremonies, click here.
Photo Albums