About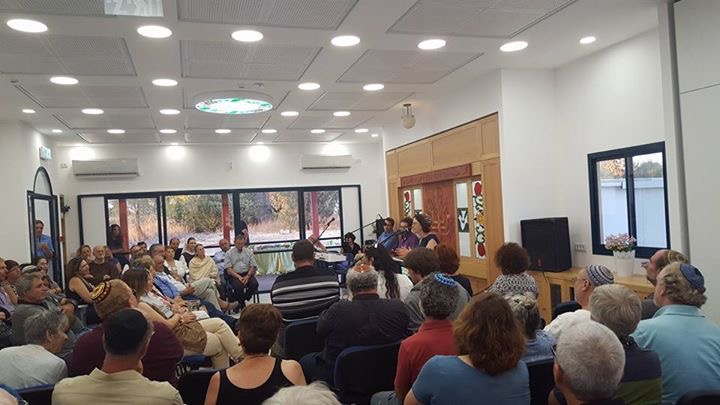 Kehilat Birkat Shalom is located between Jerusalem and Tel Aviv near the Biblical site of Tel Gezer, not far from Ben Gurion Airport. The congregation serves the regional communities, offering a liberal Jewish alternative for lifecycle and holiday events. With approximately 50 member families, Birkat Shalom offers a warm and inviting community to people living in the Gezer Regional Council area near Ramla and other surrounding communities.
Rabbi Miri Gold (HUC Jerusalem '99) and the congregants place great emphasis on bridge-building between the Diaspora and Israel, and welcome visitors from abroad to participate in Kabbalat Shabbat services, and visits to the synagogue.
The congregation also promotes tolerance and religious pluralism, and strives for social justice in its activities.
Activities and News
In addition to the yearly workshop sessions for Bnai Mitzvah, Tu Bishvat seder, Purim Megila reading and outdoor Shavuot festivities, one of the highlights every year is the Simchat Torah celebration for several hundred participants, which is held in the outdoor sanctuary. For many of the participants, it is the first time they have seen a Torah scroll close-up, or have an opportunity to dance with the Torah.
Hosting Visitors from North America
Kehilat Birkat Shalom is happy to host congregational groups from abroad. In the summer, we offer groups the option of participating in Friday evening Kabbalat Shabbat services, followed by a catered Shabbat dinner, or home hospitality, an interesting and memorable experience, which is often a highlight of their trip to Israel. We can be contacted through our office email or by writing to Rabbi Miri Gold: mirig49@gmail.com.
Overseas bar/bat mitzvah celebrations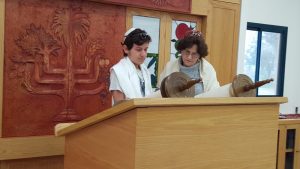 Birkat Shalom provides a lovely and intimate venue for b'nai mitzvah ceremonies for overseas families. Whether it's a family of four which would to fill out its minyan with synagogue members, or an independent group, Rabbi Gold is happy to officiate, and provides Skype, FaceTime or WhatsApp meetings to get to know the family and go over the service. Please contact Rabbi Gold directly at: mirig49@gmail.com.
We are involved in inter-faith and Jewish-Arab dialogue and activities.
We work with Latin American new immigrants from Ramla, to enrich their Jewish lives. We combine activities in Ramla with visits to Birkat Shalom for Shabbat and holiday activities during the year.
Photo Album