Rabbi Esteban Gottfried
Office: 100 Shlomo HaMelech St.
Services:
7 Lassale Street (Please check
website for time, Sept-June)
Tel Aviv Port (6pm, July & Aug)
Tel Aviv
011-972-77-300-3655
bti@btfila.org
http://www.btfila.org
About
Beit Tefilah Israeli is a young and fast-growing, liberal and independent community in Tel Aviv, which offers a meaningful context and venue for Shabbat and holiday services, lifecycle events, and Jewish-Israeli Identity exploration for a broad range of Israelis who seek a place for spiritual quest in prayer and activism in a communal and friendly environment. In its first two years of operation Beit Tefilah Israeli has gradually become a prominent feature in the world of Jewish culture in Tel Aviv, and in the everyday lives of its members. Beit Tefilah Israeli targets secular Israelis who have not been successfully courted by other groups. Its unaffiliated nature – a novelty in itself – plays a valuable role in the success of the community, and makes it a welcoming place for people with secular and traditional backgrounds, who are looking for ways to explore the world of Jewish communal and spiritual life.
.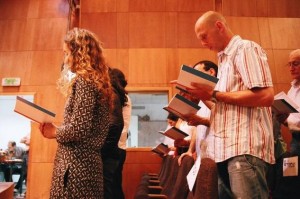 Beit Tefilah Israeli has successfully created a community built around a new model of a synagogue. Services in Beit Tefilah Israeli combine live music, modern poetry, literature and personal prayers with the traditional prayer book. This shows a marked effort: to renew and revitalize the notion of prayer and to form a new Israeli liturgical language, offering an extensive foundation for spiritual Jewish expression in an experimental way. "As the name "Beit Tefilah Israeli" implies, one of our goals is not only to bring ourselves closer to prayer, but also to bring prayer closer to us – to the place where our Jewish and Israeli identities meet." Now, after more than two years of experience, it is even clearer to us that its success is connected to the premise that the community's spirit is imbedded in Israeli culture along with traditional Jewish sources.
.
Beit Tefilah Israeli (BTI) was launched in June 2004 and is run by two of its founder's: Rani Jaeger (Chairman of the Board) and Esteban Gottfried (General Director), along with a lay leadership, an Advisory Board of prominent activists from the Jewish Renewal "scene" in Israel, a professional staff including community coordinator (Heftzi Zion Mozes), a group of musicians, and children and youth instructors.
.
BTI was founded as a "Gvanim II" program, with the financial support of the Jewish Federation of the San Francisco and Bay Area. The SF Federation and the Stulman Foundation are the primary financial patrons of Beit Tefilah and have been so since its inception. Services take place at Alma College; larger events take place in a variety of venues throughout Tel Aviv.
.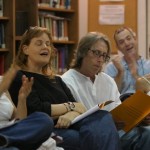 We started with 20 enthusiasts, who gathered for a monthly Kabalat Shabbat. Today, Beit Tefilah Israeli has 90 families who are members, and average of 100-150 people attending Shabbat Services. More than 800 people are connected to its activities at different levels of involvement. BTI held more than 110 events and activities in 2007: Kabalot Shabbat, Shacharitei Shabbat , family-oriented services, Study groups, social action groups, holiday services and special activities, Bar/bat Mitzvot, Siddur publishing, CD production, hosting Israeli guests and communities from abroad, and more. BTI is rapidly becoming a center of Jewish life, offering creative tools for Jewish Israeli exploration, and a forum for contributing to Israeli society through social action in a community context, in a unique atmosphere and offering a deep sense of community in urban Tel Aviv – the biggest Jewish city in the world.
.
Recently, a variety of groups and community initiators throughout the country who have been exposed to Beit Tefilah Israeli's activities have turned to Beit Tefilah, requesting tools and guidance to replicate the model of Beit Tefilah in their own milieu,. This is a new and exciting challenge for a relatively new organization that we will need to address thoroughly in the near future.
.
Friday Night Services at the Tel Aviv Port —
In recent years BTI became famous for their Summer Kabbalat Shabbat (July & August) at the Tel Aviv harbor, gathering upt to 800 people on a night.  
Click here to see a 2 min. video of the service.
.
BTI's Give a Soldier a Siddur Project
Tzahal (the IDF) gave their approval to give the Siddurim to soldiers attending BTI services in Tel Aviv.  Imagine, a progressive Friday evening service and 3-4,000 IDF soldiers. 
We want to give each soldier the siddur they use to take home.
Click here to learn more about the Soldiers Siddur project.
Activities and News
The Beit Tfila Israeli Kehilah offers its members a variety of opportunities to contribute to the community through social action. Our desire to engage in social action connects us with the ancient Jewish obligation to perform daily acts of Tikkun Olam.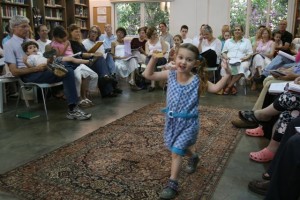 At Beit Tfila Israeli, we decided that Kabbalat Shabbat was a good setting for our social action activities. In the past year, we established a wonderful partnership with Reut, a Hostel of mildly to moderately retarded adults in Ramat Gan. On Thursdays, a group from Beit Tfila Israeli arrives at the club to celebrate the coming Shabbat together with the club members, and to reflect on the week that has passed. The members of the club have also come to visit our Kabbalat Shabbat tfilot at Alma and at the Namal.
Accompanying Refugee Women
Another social action project of Beit Tfila Israeli is assisting African refugee women. These women are refugees from countries such as the Ivory Coast, Darfur, Sudan, Eritrea and Ethiopia. We accompany pregnant refugee women to medical care appointments and provide other kinds of assistance as needed.
Beit Tefila Israeli offers study groups on various topics such as the Prayer Book.

Photo Album