About
In a sea of secularism and against the currents of religious coercion, Beit Daniel has been welcomed as a beacon of modern Judaism in Tel Aviv, since opening its doors in 1991.  Progressive Judaism in Israel, which is linked to the Reform and Liberal movements in other countries, has developed its own singular character. This is particularly evident at Beit Daniel, where visitors find familiar liturgy with an additional dimension which is best described as "Israeli." For this is a Hebrew congregation and community center in the city named for Theodor Herzl's vision of "the first Hebrew city."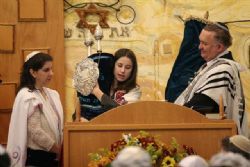 As the only Reform congregation in the largest Jewish metropolis in Israel, Beit Daniel is becoming a spiritual oasis for the so-called secular Tel Avivians who are seeking religious content in their lives.  They find it in a range of activities from a superior-quality pre-school to social programs for retirees … In lessons which examine the sources of Judaism and in public forums which discuss application of Jewish values to the modern reality of living in Israel … In Bat Mitzvah ceremonies which are equal in every way to Bar Mitzvah and which enable all members of the family to take active part … In joyous worship services of the Sabbath and the holy days which sanctify the ancient and celebrate the new.
As its reputation has grown, increasing numbers of individuals, couples and families are turning to Beit Daniel for celebrating the milestones of their lives: Naming their children, both girls and boys. Celebrating Bat Mitzva and Bar Mitzva in ceremonies which include all family members. Being married in egalitarian ceremonies, even though this may necessitate an additional civil ceremony outside of Israel, since Reform rabbis are not recognized by the State of Israel. In fact, they are even excluded from officiating at funerals.
Activities and News
Social Outreach: Judaism, Pluralism and Equality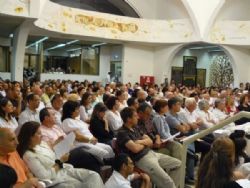 Volunteerism, born both of philosophy and necessity, characterizes the activities of Beit Daniel. As a philosophy, it is manifested in outreach to the Tel Aviv community at large and to needy individuals and groups in particular. As a necessity, it is born of the fact that the State of Israel recognizes and supports only the synagogues and institutions affiliated with the Orthodox stream of Judaism. Beit Daniel provides a multi-faceted program for new immigrants from the former USSR, including Judaism studies, cultural programs, conversion courses and legal assistance. There is also a series of public forums and discussion evenings designed to foster understanding between different sectors of Israeli society, promoting principles of democracy and religious pluralism. In addition, Beit Daniel offers a Legal-aid bureau providing assistance and representation on citizens' rights and religious issues, particularly for women and immigrants.
Bar/Bat Mitzvah at Beit Daniel
Over 200 boys and girls celebrate their bar/bat mitzvahs at Beit Daniel each year. Through a fun and creative Bar/Bat Mitzvah class program these young adults learn about the meaning of the ceremony, and study for their big day.  Furthermore, Beit Daniel has also partnered up for the past few years with a children´s safe house (for children removed from their parents care) BD prepares the bar mitzvah aged children for the occasion and the children then celebrate their ceremony at Beit Daniel. Not only Israeli children come of age through Beit Daniel:  Young Jewish boys and girls come from all around to celebrate thier Bar and Bat Mitzvahs with us in our enchanting and beatiful temple.
Mother/ daughter Bat Mitzvah Program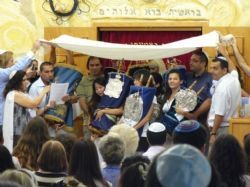 Beit Daniel is now offering a new program to prepare mothers and their daughters for a joint bat mitzvah ceremony via an innovative and engaging learning experience that culminates in a joint ceremony for the group
Our Weddings offer a alternative to the traditional wedding in Israel with on emphasis on equality, pluralism, and togethreness.  Beyond serving our local communties her in Israel, Beit Daniel performs weddings for Jews all over the world to come celebrate their simcha with us here in the Holy Land.
Enlightenment in Tel Aviv
Having come to appreciate Beit Daniel as a positive force in Tel Aviv, municipal decision-makers have abandoned their once-confrontational approach and now see the center as a partner. This has resulted in key achievements, including the election of the first Reform member in the country — what's more, a woman — to the Tel Aviv Religious Council. Furthermore, the city has allocated an additional parcel of land in historic Jaffa for the creation of a second center, which will be a community center, synagogue and hostel.  Perceptions of the congregation also are enhanced by the fact that it is headed by a new breed of spiritual leader. Rabbi Meir Azari, a native of Haifa, grew up in the Israel Movement for Progressive Judaism, which he would later serve as Executive Director, 1986-89. After receiving degrees from Haifa University and Hebrew University of Jerusalem, Rabbi Azari went on to study at Hebrew Union College in Israel and the US, receiving his ordination in Jerusalem. He has been Rabbi and Executive Director of Beit Daniel since its opening in 1991.
Photo Album