About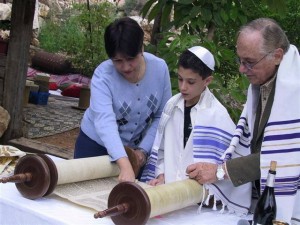 In the early fall of 2004 a small group of residents from the new neighborhoods of Rosh Ha'ayin decided it was time to transport progressive Judaism to their city of 40,000.  They sought a framework in which they would feel comfortable expressing their Jewish identity and that they could not find at any one of the over 300 Orthodox and Ultra-Orthodox synagogues officially listed at the Rosh Ha'ayin Municipality.
Activities and News
On Friday evening September 3, 2004 over 40 people gathered in a private home for the community's first Kabbalat Shabbat. Though there was no advertising, people heard about the service from word of mouth. Three weeks later 60 people came together for Yom Kippur services.
The High Holidays of 5766 (2005) provided excellent opportunities to expose the non-Orthodox residents of Rosh Ha'ayin to this new Reform community. Led by Rabbi Miron and cantorial student Ross Wolman, the thought-provoking and spiritually moving services were attended by over 100 adults and children on Rosh HaShanah and 180 people joined together for the Ne'ila service marking the end of Yom Kippur. On the eve of Sukkot, the Kehilah marked the beginning of Succot in a sukkah at a member's home and eight days later gathered together to pray, sing and dance with the Torah on Simhat Torah.
The congregation's vision extends beyond the High Holidays. Rabbi Miron has also met with principals of the local elementary schools about setting up a Bar/Bat Mitzvah study program. The congregation is also committed to social action and to this end is working with the municipality to choose a suitable project at which the members can volunteer.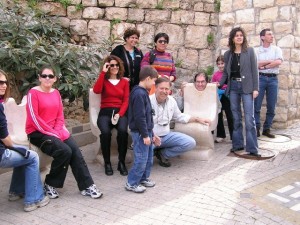 During the month of Nissan (April 2006) the first three Bar Mitzvah boys held their Bar Mitzvah ceremonies in the Kehilah. A second group of nine Bat and Bar Mitzvah children started a class in June 2006. The two girls who have joined the group intend to celebrate their Bat Mitzvahs with a Torah service, marking the first liberal Bat Mitzvah ceremonies in Rosh Ha'ayin.
Kehillat Bavat Ayin has come a long way since that first Kabbalat Shabbat service held two years ago, but we still have a long way to go in order to strengthen and solidify the congregation's position within the larger community.
The initiative for a progressive kehilah in Rosh Ha'ayin was supported from the beginning by the fellowship program of Rikma (Spirit, Community and Leadership), and received a formal status as a member of the IMPJ, Israel Movement for Progressive Judaism, in October 2005.
Photo Albums