About
Kashouvot is a pioneer organization establishing the new field of pastoral care in Israel. Kashouvot provides pastoral care (also called chaplaincy or spiritual support) for individuals of all faiths and their families. Our chaplains help people identify their unique sources of meaning and inner strengths. Through a variety of pastoral skills and approaches, we assist people in coping with the transitions of aging, illness, death and grief as well as indentifying areas of joy and growth.
We place trained and qualified professional chaplains in multiple healthcare settings. Our team, led by Rabbi Miriam Berkowitz, works in hospital, hospice, palliative care and retirement home frameworks as well as with private clients.
On this site you will find information about Kashouvot's work in spiritual care and the educational and pastoral services we offer for groups and individuals.

Mission
Kashouvot is a non-profit organization founded in Jerusalem in 2010. It's mission is to introduce chaplaincy (also referred to as pastoral care or spiritual support) into Israel, and to provide quality, professional spiritual support in the healthcare and social services.
Kashouvot's chaplains blend academic credentials with practical training in internationally recognized pastoral care education.
We present an engaging, compassionate, relevant face of Judaism for patients across the Jewish religious spectrum. We facilitate opportunities for patients of all backgrounds to connect to the texts, prayers and rituals of their own faiths.
Kashouvot provides pastoral care for patients, staff and families in a variety of residential and outpatient settings. We bring creative educational experiences to various groups from Israel from abroad.
"As chaplains, we walk into some dark places and help bring in light. We are not afraid of the patients' darkness. We don't care who they are or who they've been. We want to be with them where they are. We try to find common ground and a common language, speaking about hope, love, faith, relationships, family, regrets. Our goal is not to get them from one point to the other. Our goal is to help them identify where they want to go." Chaplain Jane Mather, Director of Chaplaincy Services at Memorial Sloan-Kettering Cancer Center.
Founders
Rabbi Miriam C. Berkowitz
Rabbi Miriam (Carey Knight) Berkowitz was born and raised in Montreal. She earned a BA magna cum laude in International Relations from Harvard University in 1993 and an MA and Rabbinic Ordination from the Schechter Institute in Jerusalem in 1998. She served as Assistant Rabbi at Park Avenue Synagogue in Manhattan for three years and spent seven years in Florida teaching adult education. She is the author of Taking the Plunge: A Practical and Spiritual Guide to the Mikvehand various other articles and publications including pieces in the Women's Torah Commentary, Jewish Lights Spirituality Handbook, Mount Sinai Journal of Medicine and Journal of Pastoral Care. Her Responsa on contraception and on interpreting the laws of Family Purity were accepted by the Committee on Jewish Law and Standards, and she currently serves on the Committee.
Miriam lives in Jerusalem where she provides pastoral counseling at the French Hospital and lifecycle events for Israelis and visitors. She is the director of the pre-rabbinic track at the Pardes Institute in Jerusalem. She travels in North America for scholar-in-residence programs on mikveh, transitions, Jewish art, Women in the Bible and Midrash.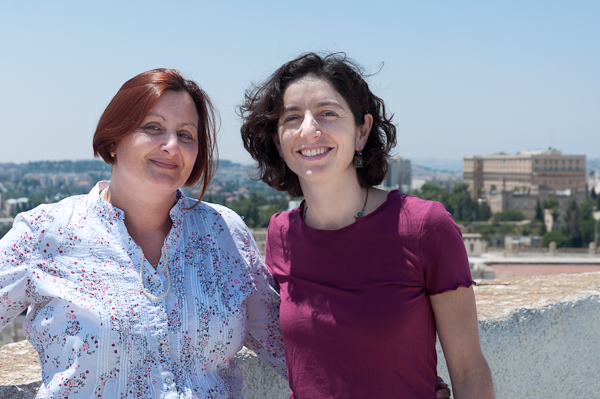 Kashouvot Founders: Rabbi Valerie Stessin & Rabbi Miriam Berkowitz
Rabbi Valérie Stessin
Rabbi Valérie Stessin was born in France and made Aliyah when she was 17. At the Hebrew University she studied for a B.A. in Special Education and Jewish Thought. She had the honor to be the first woman ordained by the Masorti movement in Israel in 1993 and earned M.A. degrees in Jewish Studies and Gender Studies. Valerie is also a certified Couples and Community Mediator. She studied Pastoral Care at the Schechter Institute for Jewish Studies in Israel and at the Robert Wood Johnson University Hospital in New Brunswick, New Jersey (U.S.A.).
She worked at the TALI Education Fund for fifteen years in various positions including the TALI schools' Rabbis program.Her last position there was Vice Director of the TALI Education Fund. Valérie is the chair-woman of Yaltha, the group of the Masorti Women Rabbis. In parallel, she is the part-time coordinator of Kehillat Shira Hadasha in Jerusalem. Valerie is currently developing the field of Pastoral Care in Israel through Kashouvot.
Visit the Kashouvot Website at: www.kashouvot.org