Contact Itamar Lapid
Phone: 011-972-52-5321-583
E-mail: itamarl@macam.ac.il
About
Shimshit is situated on a hill in the Lower Galilee, just between the ancient sights of the "Mishna". Shimshit is the youngest and the largest community village in its area. The village was established 7 years ago, as part of the regional council of Emek Yizrael.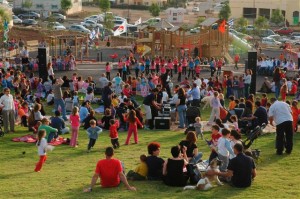 From Shimshit's first year, a small group of members has started to seek meaningful and simple ways to congregate: we started with Kabbalat Shabbat, which invited families to welcome the Shabbat together, as a congregation. Some 100 families are involved in the Shabbat circle: some attend every week, and others will come once a year.
The local success and the need for Kabbalat Shabbat, gave us the drive to go on, and fill the Jewish calendar with community activities: Tikun Shavout, where 50 people join together for a midnight study session; Kriat Megilah, where 100 people come to celebrate Purim Together; Yom Kippur, where 400 people take part in prayers and study sessions all day long; or Tu B'shvat, where 500 people are continuing the tradition of the Mekubalim, and celebrate the connections to the land and the nature.
The congregation's agenda is based on the words of Mishnaic Sage Shimon HaTzadik, (Pirkey Avot), establishing the world upon three major foundations: Tora, Avoda & Gmilut Hasadim.
Activities and News
A local Beit- Midrash has been active from the second year of the community, dedicating each year to a different theme from the Jewish sources – the Jewish calendar, life cycle events, the weekly portion etc. This year, the Beit Midrash is focused on parenthood issues.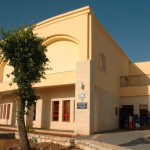 Avodat Hashem (worship God), is one of the complicated issues for secular Israelis to achieve. Our challenge is to develop the ways for a secular community – to be able to experience holy moments together, as a congregation. Whether it's Shabbat, Holydays, or life cycle events.
Social Justice as leading value, through everything we do. Building a supporting community from within, and taking long terms projects, in which Shimshit as a community can support the needs outside our door.
A leading team of ten lay people is in the head of the move in Shimshit, together with a professional leader and a team coordinator, who are working part time. The collective association and the regional council are funding a part of the activity, while the significant part is coming from donors – most of them from North America.
Building a community takes time, and a lot of endurance. Becoming a congregation – without being committed to any stream, movement or denomination – takes a lot more. In the intensive rhythm of our reality in Israel – every hand that will reach out to help – will take us another step forward.
Photo Albums