Rabbi Oshrat Morag
Chair: Zohar Kiezler-Weinstein
55 Hantke Street, P.O. Box 3711
Haifa 3460840 ISRAEL
Phone: 011-972-4-834-3905/6
rabbi@or-hadash-haifa.org.il
About
Or Hadash was founded in 1964 by Rabbi Reuben Samuels, who left in 1970 to become the Principal of the Leo Baeck School. In 1991, under the leadership of Rabbi Mordecai Rotem we moved into our new home, The Lyons Center for Progressive Judaism, located on Mount Carmel. In 1999, we opened our Preschool, comprised of two classes of 50 children aged 2 to 4 years. In 2000, Rabbi Dr. Edgar Nof was appointed the Rabbi and Spiritual Leader of the Congregation. Presently, we have close to 350 member families. We hold regular services each Friday evening and Shabbat morning and afternoon, and perform 180 Bar/Bat Mitzvah ceremonies per year.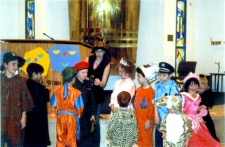 The main mission of Or Hadash is Tikkun Olam in the areas of G'milut Hesadim, Youth Education, and Jewish Pluralism. While Jewish life in the Diaspora is characterized by pluralism, in which all streams of Judaism are able to thrive, here in Israel, religious lines have traditionally been drawn dividing the Orthodox and the Secular into two camps, leaving no middle ground for other streams.
Rabbi Dr. Edgar Nof is a native of Argentina who made Aliya in 1981. He received his ordination at Hebrew Union College in Jerusalem and holds a doctorate in Jewish Studies. Before joining Or Hadash, he served as the rabbi of Congregation Emet v'Anava in Ramat Gan and as Director of the Israel Rabbinical Program at the H.U.C. (1990-1997), and as rabbi of the Ohel Avraham Synagogue at the Leo Baeck School in Haifa (1997-2000). He is married to D'vora and they have four children: Yael, Elior, Ariel and Taliah.
Activities and News
Reform ceremonial solutions for life-cycle events

Including conversion to Judaism, weddings, Bar/Bat Mitzvah ceremonies and burial rites. There are also ceremonies for children with special problems and needs. These may be physically or mentally disabled children who are often turned away by Orthodox synagogues because of lack of wheelchair access, or because of Halachic restrictions
Celebrations of various festive occasions (such as Simhat Torah Hakafot, Hanukah, Purim)

Designed to draw up to several hundred guests from all over Haifa – including many new immigrants – and which serve to expose this largely secular public to Reform Judaism.
Study groups and regular services
Holding around 500 events during the year
These draw thousands of visitors to our building, many of whom this is the first exposure to Progressive Judaism. In this manner, we hope to build a grass-roots constituency of families who, in time, will join our congregation.
Absorbing new immigrants and fostering youth activities.

We have established clubs and education groups for children ranging in age from two to teen-age. About 100 new immigrants participate in one of the activities every week. We also have clubs for seniors, adults, and immigrants from the former Soviet Union and former Soviet Bloc countries and mixed groups of immigrants and native Israelis.
Photo Albums