Chair: Linda Lior
PO Box 10246
30900 Zichron Ya'akov ISRAEL
Phone: 011-972-4-629-3113
k.sulam.yaakov@gmail.com
www.sulam-yaacov.org.il
About
Since our founding in 1996 when we joined the Israel Movement for Progressive (Reform) Judaism, our congregation Kehillat Sulam Ya'akov has developed quickly. The range of our activities has also burgeoned, allowing us to provide religious services, life-cycle ceremonies, educational activities and social action work for both the community itself and for society at large in the Zichron Ya'akov area. (Connecting us to Zichron Ya'akov, our name Sulam Ya'akov means Jacob's ladder which is reflected in our logo.)
Though we have achieved a great deal in a short time, we are fully aware that we have more work to do. Our most important goals for the years ahead are: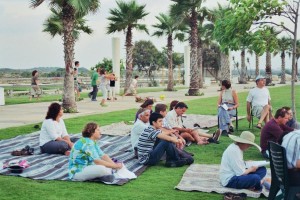 1. Forging Connections (Kesher) with other Progressive Communities in Israel and the Diaspora
Co-operation between communities and twinning almost inevitably leads to deeper mutual understanding and an enriched quality of life for all. Kehillat Sulam Ya'akov has enjoyed joint activities throughout the country with the national Movement and other Israeli progressive communities and congregations. Contacts with overseas friends continue to develop–through various groups visiting our community here, as well as through friends, families and congregational contacts. Since 2002, we have been sending out a weekly e-mail update read by literally hundreds of people, making it an easy way for Israel Program Committees to establish a personal connection (kesher) with Sulam Ya'akov. Adult and youth from communities and organizations from around the world have enjoyed our hospitality, and experienced the unique historical atmosphere that characterizes Zichron Ya'akov. Our members have also been hosted by communities worldwide, strengthening this kesher.
2. Ensuring the Continuity of Jewish Tradition from Generation to Generation- Youth Programs
The Progressive Jewish Youth Program in Zichron Ya'akov, Noar Telem, provides a framework for young people aimed at helping them to express their Jewish identity in modern and creative ways. We would be delighted for them to connect with Jewish youth from other countries through e-mail and then possibly via exchange programs.
3. Education for Pluralism and Tolerance
The local Reform movement in Israel and individual Reform communities in particular are struggling not only against official discrimination, but also against popular prejudice—the only officially-recognized and government-funded stream of Judaism in Israel is the Orthodox. Since we view prejudice in all its forms as highly harmful to society in general, and as running contrary to Jewish tradition, one of our most important goals is initiating educational programs, aimed especially at the young that emphasize the values of pluralism and tolerance.
4. Acquiring a Synagogue
We are still involved in complex negotiations with the town council to allocate us our own plot of land for our synagogue. An exciting recent development in the meantime: we just received a temporary prefab structure from the housing ministry. We are hopeful of success and are actively fundraising among members and friends for the remaining infrastructure and equipment costs so that we can move in. Although there are still challenges to face, we are almost home!
Thus, we feel that Sulam Ya'akov stands on the threshold of great things. Though many important challenges await us, our achievements to date—as well as the enormous spirit and determination which all our members show—convince us that we can meet each and every challenge.
Judaism has never demanded uniformity of belief or practice. It has grown and adapted over the millennia, and must continue to do so. In the tradition of Zichron Ya'akov's founders, Sulam Ya'akov continues to break new ground–this time making religious tolerance, pluralism, and equality a reality. We welcome your interest and support for our community, and invite you to visit us when you are in Israel to experience firsthand the joy and excitement of creating a new Progressive Jewish community.
Activities and News
Creative Ritual and Life Cycle Ceremonies
We have developed a spectrum of life-cycle rituals suitable for modern Israeli society, catering to a community with congregants ranging from newborns to the over 90's. Our senior citizens participate fully in community life including ba'alei kriya (Torah reading) and darshanim (giving sermons). We are especially proud and inspired by Bnai Mitzvah ceremonies held for senior citizens—survivors who were prevented from celebrating this tradition when they came of age during the Holocaust. Regular family services and Tot Shabbats are very popular events, largely due to our special musical tradition in prayer.
Bar/Bat Mitzvah Ceremonies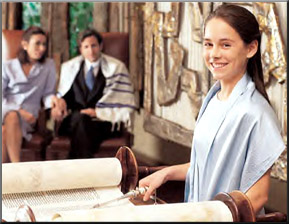 The Bar/Bat Mitzvah Program is one of our major outreach programs. A growing number of local families are seeking a traditional, Jewish experience with spiritual significance. The modern, egalitarian, and personal setting of Sulam Ya'akov is particularly suitable for this and many families take great interest in our program because it provides a meaningful local alternative to the present-day celebrations which often consist only of a big party or a trip abroad. Before the ceremony, Bnai Mitzvah participate in a special workshop specially developed to provide a basic grounding in Jewish concepts and values. Scores of families and hundreds of guests with little or no exposure to Progressive Judaism have had their first contact with us—to everyone's satisfaction and pleasure—at a Bar/Bat Mitzvah ceremony.
Today's secular Jews in Israeli society are feeling a growing need to explore their roots in Jewish tradition. Though not yet a formal adult ed program, there are short courses aimed at opening the world of Jewish tradition in all its wealth to the modern Israeli. Among the most popular have been courses on "Maimonides in the Modern World", "The Woman in Jewish Tradition", "Shabbat", "Personalities in Genesis", "Cantillation for Adults" and "Gender in the Bible". Our lecture series on Hassidut was also very popular. In addition, Sulam Ya'akov members are working with local and national educators to integrate egalitarian, pluralistic approaches within the Education Ministry curricula — such as for the 2nd grade initiation to Torah study and the 6th grade Bat Mitzvah year.
As a kehillah (congregation) without walls–we do not yet have our own building–we aim to provide an insight into Judaism through artistic activity and nature. Singing, multimedia arts, creative writing, tiyulim (family outings) to the natural environment all help secular Israelis find their own way back to the tradition, by using their own creative talents. Trips to sites of historic importance—there are many of these in Zichron itself, not to mention its surroundings—also help make a connection with Jewish roots in the Land of Israel. In addition, this allows us to make connections with our non-Jewish neighbors that we hope lead to the mutual understanding and respect necessary for peaceful coexistence.
Social Responsibility Towards Tikkun Olam
Sulam Ya'akov is a very socially-concerned community. We believe deeply in the value of Tikkun Olam. Over the years, we have initiated a number of very successful mitzvot and tzedakah programs. The first is our continuing food drive program for the needy in our area. The second program (now completed) aimed at helping new immigrants from Ethiopia. The needs of Falashmura children in Addis Ababa have recently led us to become the first Israeli community to participate in Rabbi Joel Soffin's "Million Quarter Project" (www.shalomethiopia.org). Another program is called "Isha L'isha"—"Woman to Woman"; volunteers from our congregation reach out, in coordination with the Welfare Department, to single mothers, seniors, or home-bound women in our community who need some sort of assistance. In co-operation with the local Matnas Community Center and Conservative community, we participated in initiatives to fund a program sponsoring after-school activities for needy children, "Hug l'Kol Yeled." And Sulam Ya'akov members quickly mobilized to host and continue to assist families affected by Lebanon War II. Through these social action programs and others, members of Sulam Ya'akov are finding ways to engage in tikkun olam and improve the quality of life for scores of people.
Photo Albums