Coordinator: Rabbi Avi Novis-Deutsch
Chairperson: Miriam Avraham
Deputy : Karni Lahav-Goldshmid
8 Beitar Street, Talpiot-Arnona
POB 8652
91086 Jerusalem
Tel: (054) 564-2253
E-mail: office@mayanot.info
http://www.mayanot.info
About
Kehillat Mayanot, the first traditional, egalitarian minyan in Jerusalem, was founded in 1988 on the principles of equality, tradition, and social responsibility. From its earliest days, Mayanot emphasized the centrality of group responsibility, a commitment which found expression in the organizational structure of the community and in the participatory nature of its services and Divrei Torah. Fully egalitarian, both men and women take turns participating in and coordinating services and delivering Divrei Torah, with a rabbi who coordinates the activities.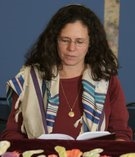 Beginning with a small but dedicated group of worshipers who struggled each week to find a quorum for Shabbat services, the congregation soon become known for its lively tefillot, its highly participatory structure, the high quality of its Divrei Torah, and the seriousness of its commitment to both egalitarianism and halacha. The congregation began to attract people from a variety of backgrounds.
Today, we are approximately 40 families made up of Ashkenazim and Sephardim; singles, families, and seniors; native Israelis and olim from North and South America, France, England, Germany, and Hungary. Our activities include Shabbat services, study sessions and seminars, children's services, weekend retreats, holiday services, and activities for Yom Ha'Atzmaut, Lag B'Omer, and other holidays.
Activities and News
Shabbat morning services start at 9:00, followed by Kiddush.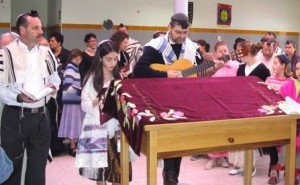 Mayanot is truly blessed with many children who add to the joyous and lively atmosphere of the kehillah (community) and tefillot (services). Children are encouraged to sit with the adults during tefillot and to take roles, such as Ashrei and Shir HaKavod. Every Shabbat morning there are Noam – Noar Masorti (Masorti/Conservative Youth) – activities for the school age children, led by Noam counselors.  And there are Tefillat Yeladim (Children's Services) for younger children. The children learn some of the prayers and their meanings and are encouraged to discuss them.
As Avraham did when he welcomed the three angels into his tent, Mayanot puts a strong emphasis on hachnasat orhim (hospitality). Members of the kehillah welcome into their homes for Shabbat and holiday meals visitors, new members, and veteran members, groups and individuals. We would love to get to know you and for you to get to know us. Hospitality can be arranged on the spot after services or in advance by contacting us.
During the year, Mayanot is privileged to celebrate many life-cycle events with our members, including Bar/Bat-Mitzvah, Simhat Bat/Brit Milah, Shabbat Hatan v'Kallah (aufrauf), etc and invite members of the greater community in Israel and from abroad to join us and celebrate their smachot with us, as well. Members of the community are available to help with the preparations, including teaching how to read Torah and Haftorah and preparing a D'var Torah.
Photo Albums