About
Kehila Chadasha was founded in 1973 in Kiryat Tivon, a growing suburban town close to Haifa. The congregation was founded by immigrants from North America, who were joined by Israelis of diverse origins. The congregation joined the IMPJ nine years after its establishment.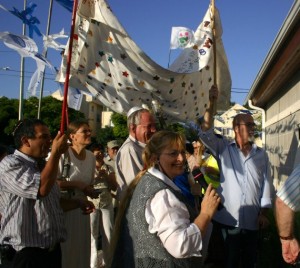 Unlike many IMPJ congregations, Kehila Chadasha enjoys strong support from the local authority. The chairperson of the congregation was elected to serve on the local religious council (statutory bodies which are usually dominated exclusively by Orthodox representatives). Almost 1,000 local residents signed a petition supporting his candidacy.
The local authority has also allocated a large plot of land for a synagogue and community center. In the future, if the congregation has a serving rabbi and if funding is available, it hopes to be able to take advantage of this generous offer. For the present, Kehila Chadasha uses a bomb shelter as its synagogue.
Activities and News
Kehila Chadasha holds services every Friday night, and on Saturday morning when there is a Bar/Bat Mitzvah (twice a month). We also celebrate all the festivals, including a communal Second Seder at Passover, a Seder Tu Bishvat, etc. The congregation has approximately 30 members. Many more local residents attend events, and on Yom Kippur some 200 worshippers are present.
The congregation runs study groups for members and the general public, as well as a course preparing youngsters for their Bar/Bat Mitzvah.
Photo Albums