Rabbi Tsvi Landau
President Joan Weisman
P.O. Box 568
Karmiel 20101 ISRAEL
Phone/Fax: 011-972-4-958-2613
E-mail: joanw@netvision.net.il
http://www.hakerem.net
About
Kehilat HaKerem, the Masorti (Conservative) congregation in Karmiel consists of about one hundred member units, families, couples, and singles. The congregation's religious services and social activities – Shabbat and Holiday prayers, lectures, study groups, and other celebrations – take place at the Spitzer Community Center, 4 Shezaf Street, near the "Lev Karmiel" Mall.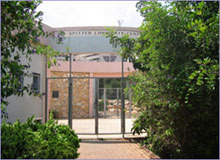 Rabbi Tsvi Landau is now serving his second year with Kehilat HaKerem. Originally from New York City, Tsvi has been in Israel since 1996. He was ordained at Machon Schechter, the Masorti Beit Midrash, in Jerusalem in December 2001. The Board of Kehilat HaKerem comprises five people who usually serve for a period of 3-5 years. The congregation membership includes native-born Israelis and immigrants from the US, Great Britain, South Africa, Argentina, Mexico, and the former Soviet Union.
Services are held in the Spitzer Community Center, which houses our sanctuary, plus a small kitchen, and an office for the use of Kehilat HaKerem, in addition to a municipal kindergarten, also housed in the building. Our location is near the projected center of town, adjacent to a large mall-office-residential complex. Karmiel is a fast-growing city, which is on its way to trebling the population since 1989. The current population of nearly 50,000 is expected to continue to climb in the coming years.
Activities and News
We are currently working in partnership with an organization that assists the special needs population in Karmiel. Rabbi Landau visits their center regularly to teach. We also are in the process of trying to find funds to revive a successful educational and cultural program to reconnect Russian-speakers to their Jewish Heritage. The neighborhood pre-schools are invited periodically for special holiday presentations as well.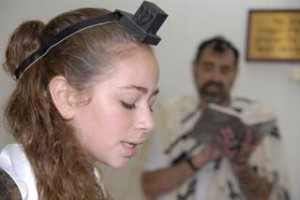 From twenty to thirty bar/bat mitzvah ceremonies take place each year at the kehilah, attracting families who are looking for a traditional ceremony with a warm, family-style approach.  The Masorti Youth Movement, NOAM, sponsors a small chapter for children aged 9 -12 weekly at our location.
We offer year-round youth and adult educational programs which examine Jewish values in both classic texts and more modern media. All of our classes are conducted in an open-minded environment and attract participants from the public at large. We have recently partnered with the Midreshet Yerushalyim, an arm of the Schechter Institute , to inaugurate our own Beit-Midrash: MIDRESHET HAKEREM FOR JEWISH CULTURE. Kehilat HaKerem conducts weekly Parashat HaShavua classes in Hebrew, bi-monthly Tea and Torah sessions in English, and several series featuring guest lecturers.
Outreach is in many ways our raison d'etre. We are involved in Outreach to Immigrants, Outreach to the Community at Large , including Outreach to local Arab and Druze communities.
Photo Album