About
Beit Knesset Moreshet Yisrael was founded in 1972 in order to serve as a spiritual center for Masorti-Conservative Jews in Israel and from around the world. Moreshet Yisrael is an egalitarian congregation, affiliated with the Masorti-Conservative Movement and the United Synagogue of Conservative Judaism. The congregation is committed to Torah, Judaism, Zionism, tzedaka, and to providing an authentic Jewish alternative for Israeli society. It is one of the nearly 50 Masorti synagogues in Israel. If you will be in Israel in the near future, please be in contact with us.  It will be our pleasure to welcome you to your home-away-from home in Jerusalem and to our congregation.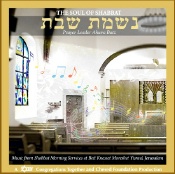 Link to the Moreshet Yisrael CD
Nishmat Shabbat (The Soul of Shabbat)
Activities and News
D'var Torahs in English and Hebrew.
Shabbat, Haggim and daily morning services.
Bat and Bar Mitzvahs, Aufrufs, Wedding Anniversaries and visits all year round.
MEMBERSHIP INFORMATION
LOCAL MEMBERSHIP – 5777  2016 – 2017

Single Membership (per year) $225
Family Membership (per year) $375
OVERSEAS FRIEND – 5777  2016 – 2017

Honorary (per year) $225
Patron* (per year) $395
Benefactor* (per year) $795
Trustee* (per year) $1,650
Life Membership* $2,700
*Indicates these memberships entitle members to High Holy Day seats.
All prices are in United States Dollars.
Photo Albums