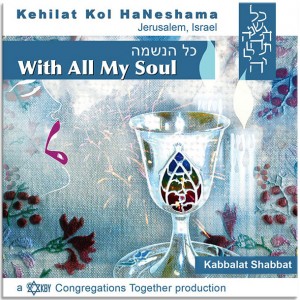 "With All My Soul" is available now for a KBY contribution of $36 or more to any progressive congregation in Israel. Make a donation to the right and select this CD.
Play this CD at home and people walking by will think there is a synagogue inside, a special shul with a warm, meditative and joyful feel — that synagogue is Kol HaNeshama in Jerusalem.   The music on this CD is full of deep spirituality as well as energy and joy.
Experience the warmth of the music, recall Israel and Jerusalem, and perhaps remember a Shabbat service at Kol HaNeshama.
The project is a joint effort by KBY and Kol HaNeshama. Rabbi Levi Weiman-Kelman, singers from the congregation, voices from Hebrew Union College's Cantorial program and help from the singers at the Jerusalem Academy of Music made this CD a total success, on a musical and vocal level.
Our producer and music director, Judi Axelrod, created a work of art that captures the musical spirit of Kol HaNeshama.  We wanted to share a part of the progressive Jewish experience in Jerusalem with people who care about Israel and support our congregations.
Click CD Images for a Larger View
With All My Soul Audio Samples
Photo Albums

Credits

Singers:
Congregational Singers: Sarah Bernstein, Debbi Hirsch Levran, David Maeir Epstein, Ayala Matlow Tal-El, Michael Hoffman, Ma'ayan Turner, Rabbi Sally Klein-Katz, Edna Miron-Wapner, Sid Knopp & VeeVee Merlin-Knopp, Shelly Salmanson-White, & Alan Salmanson
Jerusalem Academy of Music Singers: Yummie Bar,  Aviram Shamir, Gal Tamir
Guide Track Crew:
Kol HaNeshama: Rabbi Levi Weiman-Kelman, Bonnie Boxer, Yoav Peck, Shira Ackerman Simchovitch
Cantorial Students, HUC: Joshua Breitzer, Jamie Marx
Cantor, Har-El:  Evan Cohen
Production:
Producer & Music Director: Judith Axelrod
Sound Engineer:  Leo Doron Studio 1 Jerusalem
Cover Design:  Lior Elizur z"l
Executive Producer for KBY:  Jeff Macklis