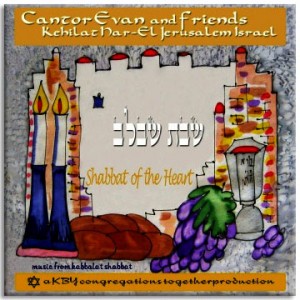 "Shabbat Shebalev" is available now for a KBY contribution of $36 or more to any progressive congregation in Israel.  Make a donation to the right and select this CD.
 The miracle of  Shabbat Shebalev represents KBY's first major project, and we couldn't be more delighted with the results. The music is uplifting, spirited, warm and wonderful. Cantor Evan Cohen and the singers from Hebrew Union College and the Jewish Theological Seminary make this album a real joy. Misha Piatagorsky's creativity, talent and direction made it a small piece of heaven.
Kehillat Har-El is the oldest progressive congregation in Israel, founded in 1958.  It is located in Jerusalem.  We wanted to share a part of the progressive Jewish experience in Jerusalem with people who care about Israel and support our congregations.
Click CD Images for a Larger View
Shabbat Shebalev Audio Samples

Photo Albums

Credits

Singers:
Kehilat Har-El, Jerusalem, Israel:  Cantor Evan Cohen
Cantorial Students, JTS:  Ayelet Piatagorsky, Jen Cohen
Rabbinical Student, HUC:  Noah Fabricant
Cantorial Student, HUC:  Leah Holland

Production:
Producer, Arrangements & Percussion:  Misha Piatagorsky (www.MishaMusic.com)
Guitar:  Denis Sobolev
Sound Engineer:  Ori Vinocur, Kadima Studio Jerusalem
Photography and Cover Design:  Teresa Machado
Executive Producer for KBY:  Jeff Macklis