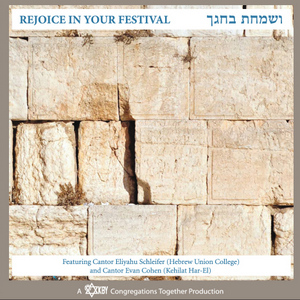 "Rejoice in Your Festival" is available now for a KBY contribution of $36 or more to any progressive congregation in Israel. Make a donation to the right and select this CD.
"V'samachata B'chagecha" (Deuteronomy 16:14) commands us to "rejoice in your festival".  The album title expresses the joy inherent in the music.  For the past few years, Cantors Eli Schliefer and Evan Cohen would lead the music at a joint Kehillat Har-El / Hebrew Union College–Jerusalem service for the mornings of the Shalosh Regalim, the Three Festivals.  During each of "the festivals", Passover, Sukkot & Shavuot distinctive music accompanied the service, prayers and psalms heard only on these holidays.  As a bonus, each service included an especially joyous rendition of the Hallel prayer.  Our hope was to capture the moving nature and joy of the special musical pieces.  So, rejoice!
A Special Thanks to Cantor Eliyahu Schliefer:
Eli and I have both sung on and helped produce prior KBY albums.  Eli has been a valued mentor and my friend for many, many years.  We had sung together countless times.  I felt that this project would be a fitting tribute to him upon his retirement after 20 years leading the HUC—Jerusalem Cantorial program.  I have always appreciated Eli's special gift for Chazzanut, his masterful knowledge of Jewish music, and his open and ever helpful style of teaching.  I and hundreds of cantorial students have benefitted from and are grateful to Eli for sharing his gifts.  It has always been a great pleasure to study with him and a joy for us to sing together.  I will be forever in his debt.   Cantor Evan Cohen, Kehillat Har-El, Jerusalem
Click CD Images for a Larger View
Rejoice in Your Festival Audio Samples

Photo Albums
Credits

Cantors:
Cantor Professor Eliyahu Schleifer, Director Emeritus of the HUC — Jerusalem Cantorial Program
Cantor Evan Cohen, Kehillat Har-El
Musicians:
Anastasia Sobolev, piano
Jeanne Schaefer, flute
Asa Cohen, percussion
The "Baruch Haba Choir" (track 18), conducted by Jeanne Schaefer; HUC Cantorial Students: Lauren Furman and Jessica Thorpe, Cantor Azi Schwartz and Adrian Isaacs.
Production:
Music Producer: Cantor Evan Cohen
Sound Engineer:  Leo Doron Studio 1 Jerusalem;  Ori Salzberg, www.doogree.com
Graphic Design:  Claire Ben-Ari, www.design.chameleonseye.com
Photography: Portraits — Anat Cohen, www.familyphoto.co.il;  Rafael Ben-Ari, www.israeli-photographer.chameleonseye.com
Executive Producer for KBY:  Jeff Macklis