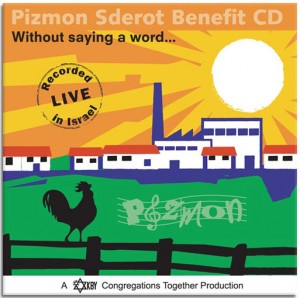 Pizmon is the Jewish a cappella group from Columbia University, Barnard College and the Jewish Theological Seminary. The Pizmon Sderot Benefit CD of the concert was released on Aug 18th, 2008 and will be made available to all associated groups raising funds for Sderot: the Masorti Movement (Conservative), the IMPJ (Reform), KBY congregations, and any of your congregations who would like to help. Please contact us for information at: info@KBYonline.org
KBY sponsored a summer outdoor film program in Sderot with the money we raised.  We worked with the Youth Department, the Community Center, and the Cinematheque.  Since then, we'd like to give movie subscriptions for the kids in Sderot.
With the benefit proceeds, KBY will buy Movie Subscriptions for Sderot kids. Please sponsor a kid. Each annual subscription costs $45.
See Sderot Cinematheque project for more information.
CONTRIBUTE TO OUR SDEROT PROJECT All contributors of $45 or above will receive the Pizmon
Sderot CD (unless you've already received this CD, in which case you'll receive one of the 3 new KBY CDs.)To sponsor 1 kid — $45
Sponsor 2 kids — $90
Sponsor 5 kids — $225
Sponsor 10 kids — $450
Pizmon Sderot CD Audio Samples
Video of Pizmon

Credits
Pizmon Singers:
Music Director: Julie Singer
Singers: Rachel Levine, Maya Newman, Avi Stiefel, Jonathan Billig, Zach Lebwohl, Jeremy Burko, Seth Samuels, Doug Yolen, Mike Landes, Jenna Baldachin, Eliana Horn, Shayna Flink
Production:
Sound Engineeer: Leo Doron, Studio 1 Jerusalem
Music Mastering: Ori Salzberg
All Musical Acknowledgements: ACUM