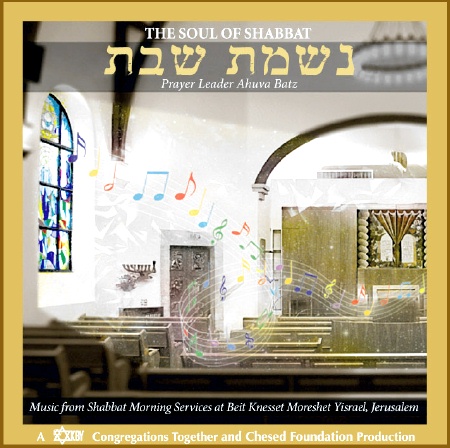 "Nishmat Shabbat" is available now for a KBY contribution of $36 or more to any progressive congregation in Israel.  Make a donation to the right and select this CD.
The project is a joint effort by KBY, Beit Knesset Moreshet Yisrael and Ahuva Batz.  The selections for the CD are prayers and psalms sung during Shabbat morning services at Moreshet Yisrael, Jerusalem by Ahuva. The music is warm, spiritual and uplifting.   Experience the warmth of the music, recall Israel and Jerusalem, and perhaps remember a Shabbat service in Jerusalem.
Ahuva Batz' s passion for Talmud, Torah and Tefilla (prayer) has blossomed into her work as a teacher and ritual leader.  She teaches cantillation and B'nai Mitzvah lessons, leads prayers and chants megillot and is a prayer leader at Moreshet Yisrael, Jerusalem's flagship Conservative synagogue.  Her music blends enchanting world-Jewish melodies with Israeli soul.  Ahuva was born in Israel.
Moreshet Yisrael was founded in 1972 in order to serve as the spiritual center for Conservative Jews in Israel and from around the world.  Moreshet Yisrael is an eqalitarian congregation, affliated with the Masorti-Conservative Movement in Israel.   We wanted to share a part of the progressive Jewish experience in Jerusalem with people who care about Israel and support our congregations.
"Ahuva's blend of powerful and poetic voice rhythms, understanding of the intent and content of the tefilla and devotional integrity is unparalled."

Rabbi Adam Frank, Beit Knesset Moreshet Yisrael, Jerusalem, Israel
Click CD Images for a Larger View
Nishmat Shabbat (The Soul of Shabbat) Audio Samples

Photo Album
Credits
With sincere appreciation to the Chesed Foundation for significant funding of this project.
 Prayer Leader:  Ahuva Batz
Choir Singers:  Ashira Buckley (JTS Cantorial Student), Marisa James (JTS Cantorial Student), Samuel Rose-Carmack (HUC Rabbinic Student), Paul Strasko (HUC Rabbinic Student)
Choir Director and Musical Arrangements: Jay Shir, Ph.D.
Production:
Sound Engineers: Leo Doron, Studio 1 Jerusalem; Ori Salzberg, http://www.doogree.com, Yuval Amit, http://www.yuvalamit.com
Cover Design: Lior Elizur z"l
Graphic Design: Claire Ben-Ari, www.design.chameleonseye.com
Executive Producer for KBY: Jeff Macklis
Production Assistance: Cantor Evan Cohen
Photographs: Teresa Machado
Insert Background: Painting by Ester Golan